kepada kawan2 yang selalu menggunakan khidmat Online Banking..sila pastikan ada ke Web yg benar dan bukannya web tiruan...
sejak akhir2 ni..banyak email2 yg berkaitan dgn banking process yg saya telah terima...
sila pastikan apabila anda ingin login ke web bank..pastikan anda melihat simbol seperti gambarajah dibawah ini...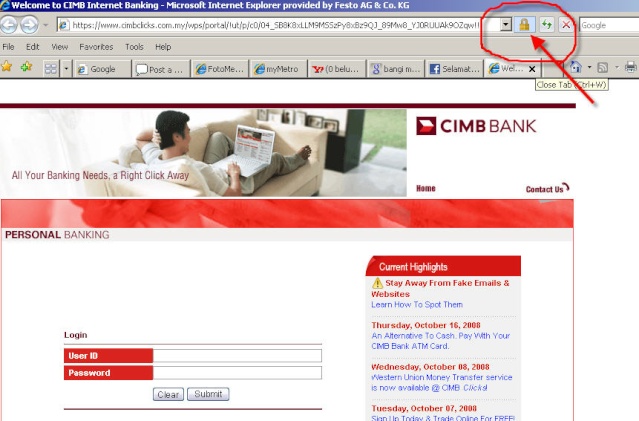 antara email yg saya dpt..
Quote :

Dear CIMB Bank customer,


We are hereby notifying you that we've recently suffered a DDos-Attack on one of our's Internet Banking server. For security reasons you must complete the next steps to verify the integrity of your CIMBClicks account. If you fail to complete the verification in the next 24 hours your account will be suspended.

Here's how to get started:

1. Log in to CIMBClicks online account (Click Here)

2. You must request for TAC online via CIMBClicks - your TAC will be sent via SMS to the mobile phone number you registered at the ATM.
( you can find the "request TAC" button in the left menu of your account )

3. Logout from your account and close the browser.

4. When you have received the TAC (Transaction Authorization Code) on your mobile phone, Log in to our secured verification server and submit the requested information(Account user ID, password and TAC).CLICK HERE to go on our secured server.

5. Please allow 48 hours for processing.


Please comply and thanks for understanding.
В© 2008 CIMB Bank
Utk step 1,2 dan 3 adalah betul..
ttp step 4 adalah web yg palsu..
kalau masukkan username, password kat form tu..secara automatiknya..diorg akan tahu login ID dan Password anda..
jadi kepada mmber2..sila pastikan betul2 web tu..sblm anda login...kalu ade kemusykilan..lagi baik call banking customer service..